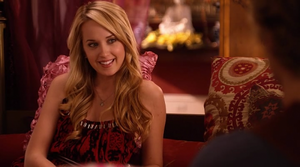 &nbsp
Beverly "Bev" Van Ravensway is Katie's evil stepsister and Victor's biological sister. She is portrayed by Megan Park. Bev wanted to win a record contract with Guy Morgan, but she is a terrible singer. Bev is very jealous of her stepsister's singing voice and wants to be everything Katie is that she isn't. She tried to steal Katie's spotlight when Luke mistook Katie's beautiful voice for Bev's, but Luke soon found out it was Katie and Bev had been lying to him. So Victor sabotaged Bev's "singing" by unplugging her microphone so she couldn't lip synch.
Ad blocker interference detected!
Wikia is a free-to-use site that makes money from advertising. We have a modified experience for viewers using ad blockers

Wikia is not accessible if you've made further modifications. Remove the custom ad blocker rule(s) and the page will load as expected.