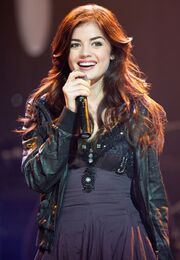 Katie Gibbs
is the Cinderella character of the movie. She is portrayed by Lucy Hale. She lives with her stepmother Gail, stepsister Bev, and stepbrother Victor. Katie has a marvelous singing voice. But Bev was jealous and tried to steal her spotlight. Katie has a big crush on
Luke Morgan
. But Luke believed he was in love with Bev after he mistakes Katie's beautiful voice for Bev's. Luke found out it was Katie's voice the whole time and Bev never sang at all. So he managed to steal a camera and film Katie in front of the audience at the talent show. Bev lost her audience to her stepsister who still sang in the show. Luke was asked by his father
Guy Morgan
to work with her on her album much to her joy. Her stepbrother Victor was troublemaking around her but then realized he loved his stepsister much more than his biological sister. At the end Katie is then shown to be the real singer and kisses Luke impulltrating that she and him are now dating. See
Kuke
for more.
Personality
Edit
Katie is very nice, even to her stepfamily. She's very shy around Luke until he realizes that it is really she he's in love with.
Ad blocker interference detected!
Wikia is a free-to-use site that makes money from advertising. We have a modified experience for viewers using ad blockers

Wikia is not accessible if you've made further modifications. Remove the custom ad blocker rule(s) and the page will load as expected.