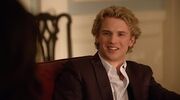 Lucas "Luke" Morgan
is the Prince Charming character. Luke is British. He met Katie when
Gail Van Ravensway
had an appointment with his father
Guy Morgan
. Luke appears to like Katie, but Bev keeps stealing him away from her. At the school Bollywood Ball, Katie sings to Luke who falls for her. But Katie leaves because
Angela
told her that Gail felt sick and went home. Luke is on the hunt for "the Girl With the Beautiful Voice" but walks in on Bev who was lip synching to Katie's voice and mistakes her for the girl. Luke believes he is in love with Bev because of the voice which really belongs to Katie. But Luke found out it really belonged to Katie. He stole the camera and filmed her, having Bev exposed, and then he really falls for Katie. He was asked by his father to work with Katie on her album much to her joy. Luke was portrayed by Freddie Stroma.
Ad blocker interference detected!
Wikia is a free-to-use site that makes money from advertising. We have a modified experience for viewers using ad blockers

Wikia is not accessible if you've made further modifications. Remove the custom ad blocker rule(s) and the page will load as expected.